Josh Garrett grew up in Ozark, Missouri and spent many years running political campaigns throughout the country. When the time was right for him and his family, he took the next step toward the goal of practicing law, however the advocacy, public speaking, and strategic skills he developed as a political consultant translate perfectly to the courtroom. That is experience that sets him apart. He believes that what wins a case is the strategy that is unique to your situation.
By taking the maximum allowable amount of credits, participating in several trial advocacy teams, and working dawn to dusk, Josh was one of the few able to graduate the prestigious Washburn University School of Law in only two years. Since then, he has moved back to Southwest Missouri and has practiced in the Branson area for the past three years, taking and winning hundreds of cases from criminal defense to personal injury and family law.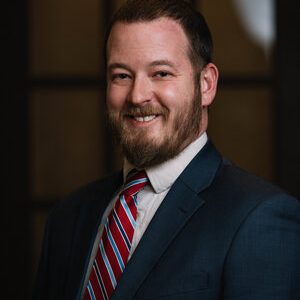 Joshua Garrett
Owner
From working at Ward Law Firm in Branson to opening his own practice, Josh has represented Southwest Missouri clients in hundreds of different types of cases. He lives in Springfield with his wife Lara and two children, Benjamin and Madeline. When he does have spare time, you can find him with his family in their camper or hiking and exploring the majestic outdoors of Southwest Missouri and Northwest Arkansas.
Education
Washburn University School of Law
University of Central Missouri
Activities & Certifications
Taney County Bar Association, President
Certified Guardian Ad Litem
Rule 12 Approved Mediator
Awards
Irvine E. Ungerman Award for Excellence in Clinical Practice
Max Rowinski Award for Excellence in Trial Practice
Hannah Versemann
ASSOCIATE ATTORNEY
Hannah Versemann is an attorney with deep roots in the Ozarks. She was raised in Clever and attended Missouri State University's Honors College, where she received her B.A. with honors in philosophy. She traveled to Saint Louis University's School of Law, where she obtained its prestigious health law certificate and gained valuable experience in the mediation clinic. Hannah is an experienced mediator in family, landlord-tenant, and personal injury cases. After her graduation, Hannah returned to the Ozarks, where she worked for Legal Services of Southern Missouri, both in their Medical-Legal Partnership, and as a general practitioner.
Hannah has a wide variety of experience in areas including family law, probate and estate planning, landlord-tenant law, and health care advocacy. Excellence is important to Hannah, and she enjoys working with her clients to find creative solutions that fit their individual situations.
Hannah enjoys trial practice and has extensive experience winning cases at trial across southern Missouri. However, her proudest victories are the cases where her focus, preparation, and negotiation skills have achieved a resolution for her clients long before trial. Hannah is passionate about alternative dispute resolution, because it often procures better, quicker, and more creative results for her clients long before trial could do so.
When Hannah is not in her office, she is most likely camping, floating, or fishing the streams of the Ozarks with her husband James and her two daughters.